Purushotam (PK) is an Acquia Certified Grand Master and Open Source Developer at Acquia with expertise in Drupal having 4+ yrs of extensive experience in the field.

Backend & Frontend Specialist | Technical Solution Analyst | Blogger
Debugging Expert  | Technical Trainer
He aims for an improved Digital Experience for Drupal users. Generally involved in Performance and Security audits of the projects to deliver the best out of Drupal. Active Drupal Contributor with 264 commits and maintainer of 20+ modules and themes on Drupal.org. He was also Listed in top Drupal individual contributors for the past year in Drupal Con Nashville 2018. Prior to joining Acquia, Purushotam worked with a startup, QED42 Engineering Private Limited as Drupal Developer for 3+ yrs. 
- in the 4+ yrs of my career:
As Backend Developer: Working on various projects both existing and scratch on both Drupal 7 and Drupal 8 (multilingual and multisite) with the different team sizes varying from 2 to 20. Explored Drupal Core and Contrib to provide an optimized performant solution via Site building and custom development. Experience with Drupal APIs (Batch API, Query API, Entity API, File API, Views API etc.), Plugins, Services, Events, Migration, Web Services and REST API. Executed third-party integrations to Drupal Projects.
Development experience on Coupled, Decoupled and Progressively Decoupled Architecture. Worked in both Service and Product Oriented Projects. Maintained code quality on large scale projects considering performance, security and scalability factor. Highlighted as the Debugging Expert in a monthly meetup.
Highlighted as the Debugging Expert
As Technical Architect / Team Lead: Setting up the architecture of projects from scratch, providing performant on-time business solutions via Drupal way building an improved Digital Experience. Performance and Security audits of the projects to deliver the best out of Drupal. Grooming of tasks to estimate them with the implementation steps and approach. Part of client demos and sprint planning. Successfully implemented a well planned and tracked open source contributions of the company leading a dedicated team besides handling Project Work as well and improving company's rank on Drupal Marketplace. 
Worked on server setup (Linux/SELinux) from scratch and optimize that to host a Drupal website to serve high traffic. Implemented Load Balancers as well. Worked on Amazon AWS (Lightsail, S3 File system and Amazon RDS)
As Technical Trainer/ Mentor: Part of technical training team to impersonate Interns with technical knowledge around Drupal. Mentored and motivated beginners and intermediates for open source contributions and helping them around project issues (technical/non-technical) as well. Served as PDL (Professional development ladder) Manager to align career and company goals for peers and juniors. Part of Training Events, Camps, Sessions, Conferences and Meetups in and around Drupal. Mentored individuals for in-depth Drupal Training for their professional growth.
As Technical Recruiter: Part of Recruitment Team, held technical interviews for both campus-drives and company recruitment for experienced developers. Interviewed, Examined candidates for technical skills, both individually and in the team. Performed Technical Assessment of in-house developers for reviews and company plannings.
As Open Source Developer: Worked on the issue queue of various important modules and lead Open Source Team for remarkable growth in the position of QED42 (8th in World) at Drupal Marketplace. Currently, the profile is enriched with 264 commits and I'm the maintainer of 20+ modules and themes.
As Technical Writer: Active Blogger writing both technical and non-technical articles. Knowledge sharing, training, experience sharing blogs written on personal or other websites. Check Reposts, Notes and Articles section.
---
Appreciations/Recognitions
Acquia Certified Grand Master

probably the youngest certified grand master of India that too within 4 months
Listed in top Drupal individual contributors for the past year in Drupal Con Nashville 2018.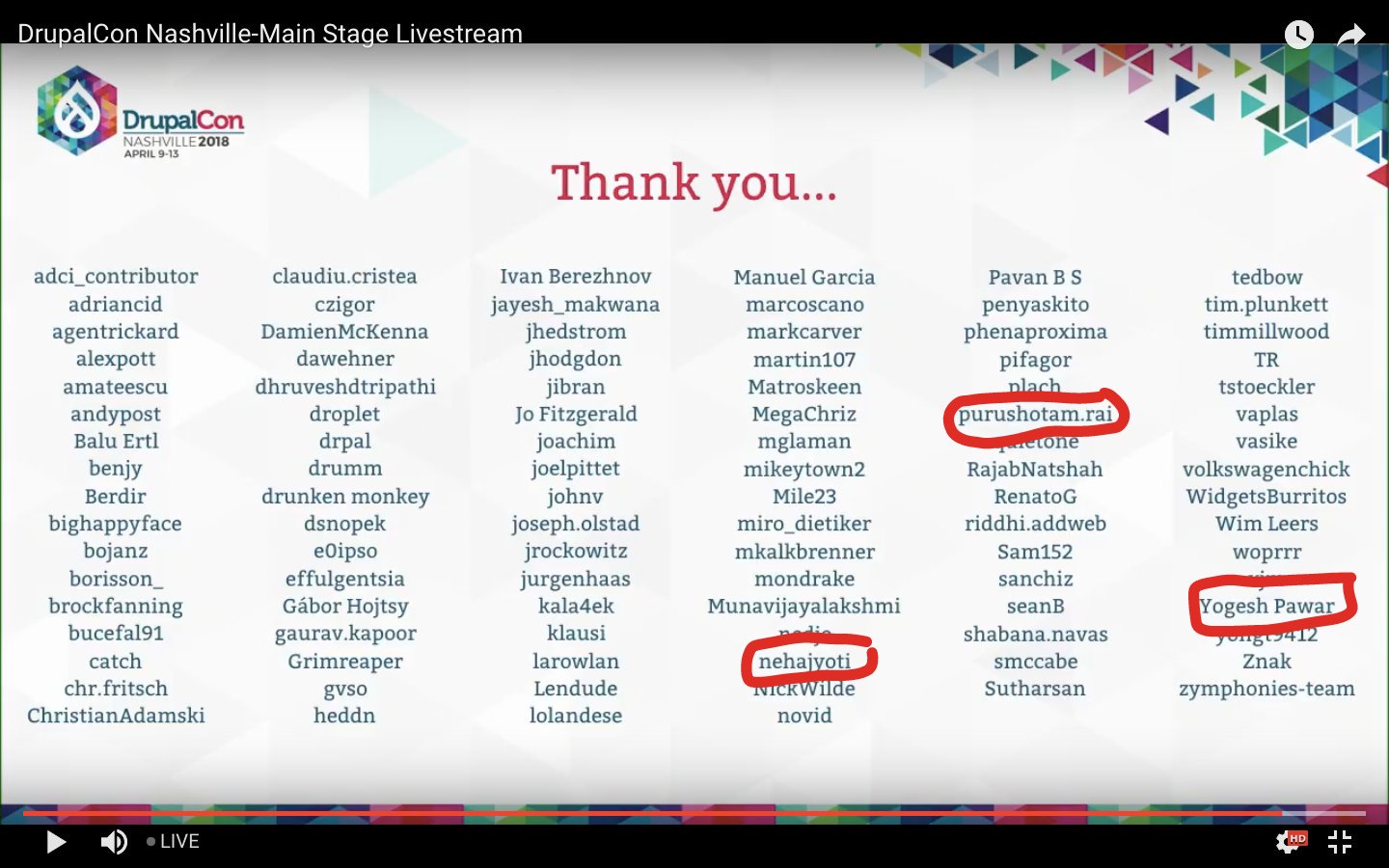 Dries tweets about CSSGram module:
Featured Contributor - Fall 2015 | QED42